New England Soccer Classic
and College Showcase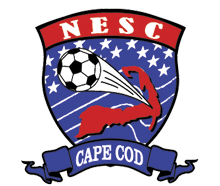 May 25-27
General Info
Important Dates
April 15
Application and Fee Submission Deadline
May 1
Game Schedule Posted
Welcome to the New England Soccer Classic and College Showcase
The New England Soccer Classic on Cape Cod provides a unique playing experience toward the end of the spring season for teams and clubs. Allowing teams to compete at appropriate levels, plan social events in a beautiful setting and play on natural grass fields. A bigger event spread over a large geographic area, is not always better.

We invite your team to apply to the NESC Memorial Day Weekend Tournament on Cape Cod, offering 2 levels of competition in Championship Formats and 3 levels of Friendship Festival formats.
Tournament Headquarters:
Boys – Nauset High School, 100 Cable Road, Eastham, MA 02642
Girls – Dennis-Yarmouth High School, 210 Station Avenue, South Yarmouth, MA 02664
Only teams that play at 9 AM will be allowed to check-in before 8:30 AM.
See Fields & Directions sections below for Layouts and directions.
Please DO NOT call the schools or recreation department for directions or information!
| Age Group | Format | Match Days | Entry Fee |
| --- | --- | --- | --- |
| U9/U10 | 7v7 Friendship Festival (2 Days-4 Matches) | Sat - Sun | $675 |
| U11/U12 | 9v9 Championship Format - 4 Match Guarantee (playoffs on Monday) | Sat - Mon | $775 |
| U13 - U14 | 11v11 Championship Format - 3 Match Guarantee | Sat - Mon | $875 |
| U15+ | 11v11 Championship & Showcase Formats - 3 Match Guarantee | Sat - Mon | $975 |
---
Fields
Please DO NOT call the schools or recreation department for directions or information!

Dogs, Smoking and Alcohol ARE NOT ALLOWED on all school properties. This includes the parking lots.

Participants and spectators are guests at the facilities. Please abide by all of the rules and think green by cleaning up and recycling where provided. Thank you in advance for your cooperation.
---
---
Schedule
Manager/Coach Check-in
Team check-in begins at 8am for those teams playing their first match at 9am.
All teams must have a representative check-in their team prior to the first match. You may check-in a minimum of 1 hour prior to their first match of the day. You check-in location is determined by the venue of your first match.
If checking in multiple teams, you can only check in the team playing at 9am kick-off, other teams must check-in a minimum 1 hour prior to first match of the day.

All teams playing in Competitive Formats must have a representative check the team. Failure to do so will result in forfeiture of Performance Bond.

Dennis-Yarmouth High School is your check-in location if you are playing at;
*D-Y High School
*Station Avenue Elementary
*Peter Homer Park

Monomoy High School is your check-in location if you are playing at;
*Harwich Community Center
*Monomoy High School
*McPhee Field

Monomoy Middle School at Monomoy Middle School
Cape Cod Tech at Cape Cod Tech
Nauset High School at Nauset High School
View Schedule & Results
View Flights & Brackets
---
Application
How to Apply
All applications must be done online. The application process must be followed in order to complete the application procedure.
The tournament website is designed to provide all of your application, bracket, schedule and results online in real time.
The application deadline is April 15th.
Acceptance
Teams are accepted on a rolling basis and guaranteed acceptance if the following is received by March 20th. Applications will be accepted until the entry fee registration deadline of April 15th.
To be eligible to for acceptance, the following must be received or confirmed:
Entry Fee (s) - if paying by check or money order, please include;
A copy of the application or confirmation email
Club, gender and age of team on the check or money order.
2. Performance Bond - A separate check for $150, not part of the entry fee, for all teams ages U12 and older (Contact Keith Clark is the club has 6 or more teams participating using a club checking account)
3. RoomRoster Reservations - all teams requiring lodging must use RoomRoster, the official housing service for the the event.
Commuting teams and teams renting housing, may request a waiver from lodging inside of the RoomRoster link provided to each team.
If a team is accepted and later withdraws after the schedule has been produced, the entry fee and performance bond will be forfeited.
Application Procedure
Login using existing GOTSOCCER account or create a new account.
Apply for the age group that you are currently participating in for your spring season. The birth year may be used to place teams in the appropriate age groups. Teams may apply to play up. If you wish to do so, please make a note in the comment box in the application.
Please print the completed application and submit with entry fee if you wish to pay by check.
You will receive an automatically generated email confirming your application has been submitted. This is not a confirmation of acceptance. This email contains your confirmation number that must be on all entry fee and performance bond checks.
You will receive a reservation link form RoomRoster to secure lodging.
The application process is not complete and teams can't be accepted until the following is received or confirmed by the tournament director:
Entry fee (s)
Performance Bond for all U12 and older teams
Confirmation of housing policy compliance
New England Soccer Classic
PO Box 1267
East Orleans, MA 02643
Apply / Log In
Forms
---
Plan Your Stay
Lodging Partners, Places to Eat, Things to Do, and more!
Businesses interested in partnering with NESC please contact Keith Clark.
Properties interested in becoming a Lodging Partner please contact Jamie Wallace
Managers and teams, for more information, please contact RoomRoster Support Specialists, at 1-888-723-2064 or at support@roomroster.com
Rock Harbor Sports Group has partnered with RoomRoster for the New England Soccer Classic. RoomRoster is the world's first comprehensive tournament and team accommodation management solution, and has pre-selected Official Tournament Hotels in order to provide teams with the best options on value, location and amenities.
After tournament registration, an account is created for each team in the RoomRoster Event Support System. The team representative is emailed their account login link to begin the hotel blocking / booking process. When the team representative selects the team hotel, a unique team member link is created and forwarded to each team member to create their own reservation within the block.
Please do not hesitate to contact our RoomRoster Support Specialists, at 1-888-723-2064 or at support@roomroster.com should you have any questions or require any assistance during the hotel booking process.
RoomRoster will provide:
Best available group hotels
Simple team blocking features to guarantee everyone stays together
Online access to easily edit your individual reservation at anytime
Team talk feature to keep your entire team connected
Great savings and discount offers from event sponsors
Lodging Partners

VIEW / HIDE all Lodging Partners

Lodging partners coming soon.

Places to Eat

VIEW / HIDE Places to Eat

The Lobster Claw Restaurant

Distance: DYHS = mi | NRHS = mi

Map:

42 Cranberry Hwy (rte 6a) Orleans, MA 02653

Website:

http://www.lobsterclaw.com

Phone:

508-255-1800

Details:

---

Brewster Chamber of Commerce

Distance: DYHS = 13.7 mi | NRHS = 11 mi

Map:

2198 Main Street, Brewster

Website:

http://www.brewster-capecod.com/

Phone:

508-896-3500

Details:

---

Chatham Chamber of Commerce

Distance: DYHS = 14 mi | NRHS = 14.5 mi

Map:

2377 Main Street, South Chatham

Website:

http://www.chathaminfo.com/

Phone:

508-945-5199

Details:

---

Dennis Chamber of Commerce

Distance: DYHS = 3 mi | NRHS = 20 mi

Map:

238 Swan River Drive, West Dennis

Website:

http://dennischamber.com/

Phone:

508-398-3568

Details:

---

Eastham Chamber of Commerce

Distance: DYHS = 22 mi | NRHS = 1.5 mi

Map:

4370 State Highway, Eastham

Website:

https://easthamchamber.com/

Phone:

508-240-2711

Details:

---

Harwich Chamber of Commerce

Distance: DYHS = 7.6 mi | NRHS = 17 mi

Map:

1 Schoolhouse Road, Harwichport

Website:

http://harwichcc.com/

Phone:

508-432-1600

Details:

---

Orleans Chamber of Commerce

Distance: DYHS = 17 mi | NRHS = 6 mi

Map:

44 Main Street, Orleans

Website:

http://orleanscapecod.org/

Phone:

508-255-1386

Details:

---

Wellfleet Chamber of Commerce

Distance: DYHS = 26.7 mi | NRHS = 4.7 mi

Map:

1410 US-6, Wellfleet

Website:

http://www.wellfleetchamber.com/

Phone:

508-349-2510

Details: WES Festival - Saturday, May 27th 10am-3pm

An old time carnival featuring mechanical rides, games, a craft fair, kids events and activities including face painting, food and fun. A great way to spend a few hours on Memorial Day weekend.

---

Yarmouth Chamber of Commerce

Distance: DYHS = 3.8 mi | NRHS = 27 mi

Map:

424 MA-28, West Yarmouth

Website:

http://www.yarmouthcapecod.com/

Phone:

508-778-1008

Details:

---

Hyannis Chamber of Commerce

Distance: DYHS = 5.8 mi | NRHS = 26.7 mi

Map:

388 Main Street, Hyannis

Website:

http://hyannischamber.com/visitors

Phone:

508-775-2201

Details: Figawi Race Weekend

The annual "Figawi" Regatta is recognized as one of the premier yacht regattas on the east coast. On Saturday morning, the large, colorful fleet gathers just outside Hyannis' inner harbor, waiting for the 10 a.m. start signal to begin their race to Nantucket. If you'd like to see them off, you'll have good a good vantage point from Kalmus Beach, Orrin Keyes Beach, or Sea Street Beach in Hyannis.

---